What you need to know to start using Yojee Dispatcher
First off, Yojee is not a bear :)
It is a cloud platform that gives you visibility, accountability and control of your logistics operations. Yojee gives you access to state-of-the-art technologies in optimisation behind a simple and fun user interface.
The Yojee Dispatcher is a web based dispatcher screen that keeps track of all your daily logistical tasks on the same screen. This article will show in a nutshell how to perform the following steps.
Logging in to Yojee Dispatcher
Making sense of the dispatcher screen
Getting orders into Yojee
Assigning tasks
Logging in to Yojee Dispatcher
Log in to Yojee Dispatcher using a web browser by navigating to your company's dispatcher page URL. The dispatcher page URL looks like the following:
In the address below <company-name> should be replaced by your company slug which is provided to your company administrator.
https://<company-name>.dispatcher.yojee.com
For example, if your company slug is "xyzlogistics", your dispatcher page URL should be the following:
https://xyzlogistics.dispatcher.yojee.com
Making sense of the dispatcher screen
The dispatcher screen provides two different views - the Explore view and the List view. Both views provide functionality to align your operations among stakeholders such as partners, drivers and last but not least, your customers!

| | |
| --- | --- |
| The Explore view contains a map component. Helps the dispatcher use his/her intuition to improve operational efficiency. | The List view is particularly useful with high volume of orders. More details of each order item. |
Getting orders into Yojee
Orders can come in through various channels.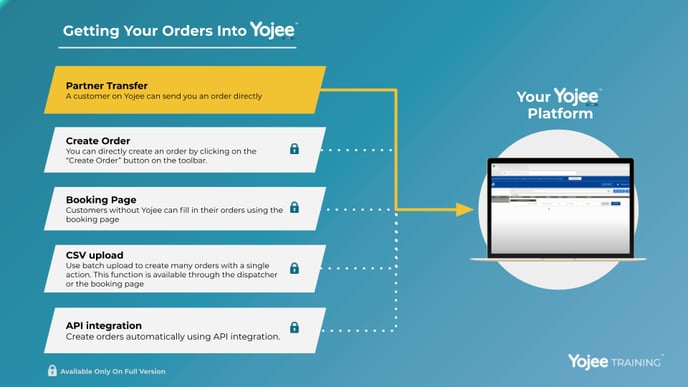 Each order has its own tracking page, and can be further updated later if needed.
Assigning tasks
Each order item in Yojee is created together with relevant steps and tasks to perform. If you already have your supply chain set up, these tasks can be assigned or transferred for execution. Tasks can be dispatched in the following different ways:
| | |
| --- | --- |
| Dispatch method | Description |
| Automatic dispatch | Task is dispatched according to a fixed rule upon creation in Yojee |
| Quick assign | Task is assigned based on a dispatcher decision |
| Transfer to partner | Task is transferred to a third party for processing |
| Optimise | Request Yojee optimiser to suggest an assignment for this task |
| Broadcast | Task is broadcasted to drivers for acceptance |
| Scan to assign | Task is assigned to a driver who uses Yojee Drive App to scan the item waybill |
All done!
With tasks assigned, you can sit back and relax!
Things are set in motion and Yojee helps to manage the required information flow between stakeholders. Each and every actor in your supply chain is kept up to date with the necessary information at exactly the right time.
Other related topics around using Yojee:
Order cutoff times
Drivers and schedules
Hub management
Proof of delivery and other documents