Transferring Items to a Downstream Partner
Transferring allows you to send your order items to a Downstream Partner who will manage the delivery process.
Go to LIST or EXPLORE view. Select the order items you would like to transfer. You can select all or one at a time.
Next, select the Transfer button. The list partners will be displayed to the right side of the page. Select the downstream partner
LIST:

EXPLORE:

A new window will open. Confirm your transfer by selecting TRANSFER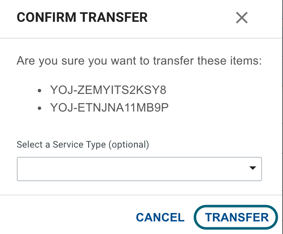 Success! Your items have been transferred to your Downstream Partner. Look for the confirmation in the top right hand corner of your screen.