Quick Assign is a feature that allows you to assign an order to a driver on the fly. This feature does not take the vehicle capacity, driver schedule or any other constraints into consideration.
1. Go to List View and find an Unassigned item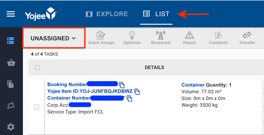 2.Select a driver
After selecting the order(s), an overlay window will appear on the right-hand side. Here, you can select your preferred driver(s).
❗Please check the vehicle capacity and check if the driver is online❗
You can check the capacity by hovering over the bars.
Grey Bars

The driver's vehicle has available capacity

Red Bars

The driver's vehicle is fully occupied
2. Click on Quick Assign
After selecting the driver, you can select the button "Quick Assign"

3. Confirm the assignment

4. Your order has been assigned to the driver!
You can check the Driver's route in the Explore view