Improving translations and saving you time searching for orders.
NEW! Save time searching for your orders! 🙌
Introducing our new feature that allows you to easily and conveniently save your searches. Click here for more information.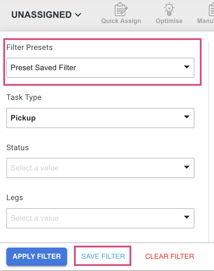 NEW! Translate your Yojee dispatcher account and Driver App! 🌏
In Dispatcher, select from Tiếng Việt, Bahasa Indonesia, 日本語, แบบไทย, 中文, Bahasa Melayu, and English. Available now in the top right of your screen.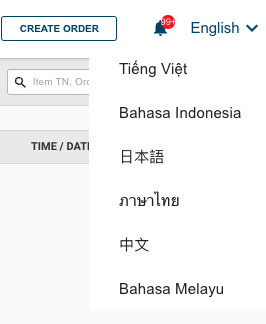 In Driver App select from English, Afrikaans, Bahasa Indonesia, Bahasa Malaysia, 日本語 (Japanese), ភាសាខ្មែរ (Khmer), 한국어 (Korean), Tagalog, ไทย (Thai), 简体中文 (Simplified Chinese), Tiếng Việt.
IMPROVED! ✅
Scrolling in List View
We've made it easier to find the Transport Orders you're looking for by making it smoother to scroll in your List View!
Customer Specific Addresses (Booking Portal)
You can now, make your pre-defined addresses customer/sender specific. This wil ensure that if your customer is creating bookings from the customer booking portal, they will only ever see addresses pre-populated that are linked to them. For further information on how the Address Book and this feature, see here

.

Downstream Partner Drivers
In the Explore view, we now hide the name of your partner's drivers. You will now see your partner's name under each driver icon. To learn more about enabling driver locations, click here.
Driver App Select Language
We have improved the driver app by moving the language option to the profile page instead of the settings page. This change makes it easier for users to find and select their preferred language.
Show Paired Tasks
Enhanced the Task type filter options to include a '+ paired tasks'. For example, selecting "Pickup + paired tasks" will display all pickup tasks along with their corresponding drop-off tasks. This feature allows for a more comprehensive view of related tasks, streamlining your workflow and improving efficiency.