How to Accept and complete your order?
1. Click on the truck icon to view the assigned tasks. (You will receive a notification whenever a task is assigned.)
2. Once you click on the vehicle icon now you are able to see the assigned order details such as pick-up and drop-off address, date, time, and other order details. Click on the 'Accept' button to continue further.
3. Click on the calendar to view the tasks that are assigned to you.
4. Select a date on which there is a "Small dot" underneath, indicating that a task has been assigned to be completed on that day.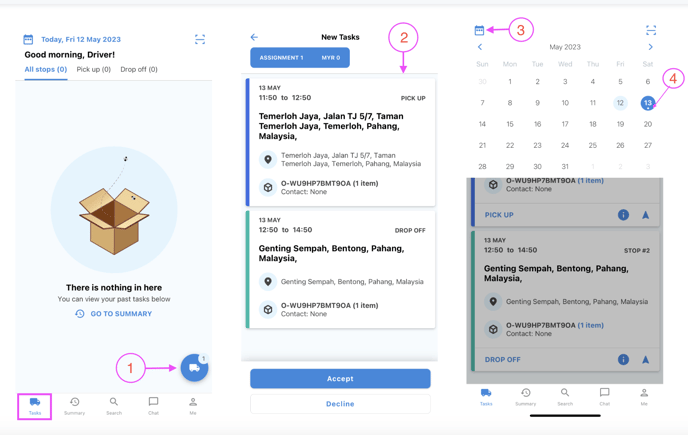 5. Now, you are able to see your pick-up and drop-off details.
6 Click the info icon to view other order information.
7. Back to the previous screen to complete pick-up or report the order.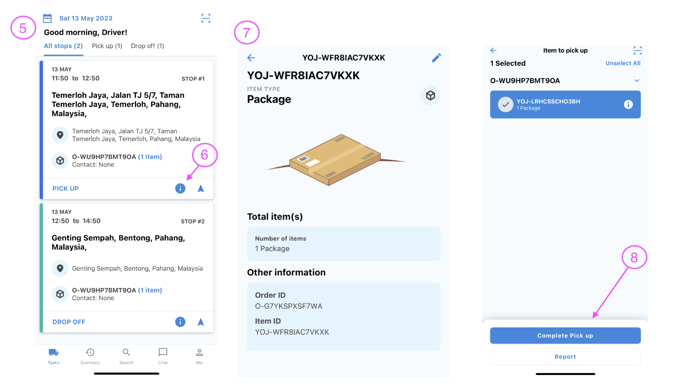 8. To proceed, select 'Complete pick up'. If not, follow steps 12 and beyond to report the order.
9. Verify the details of the item or order, then select 'Confirm'.
10. Before you go ahead with order completion, you will need to fulfill the validation steps, which may involve entering the recipient's name and obtaining their signature.
Please note that these steps will be customized by your dispatcher.
11. After successfully completing the validation process, the final step is to select 'Yes, I am ready to depart' in order to finish the task.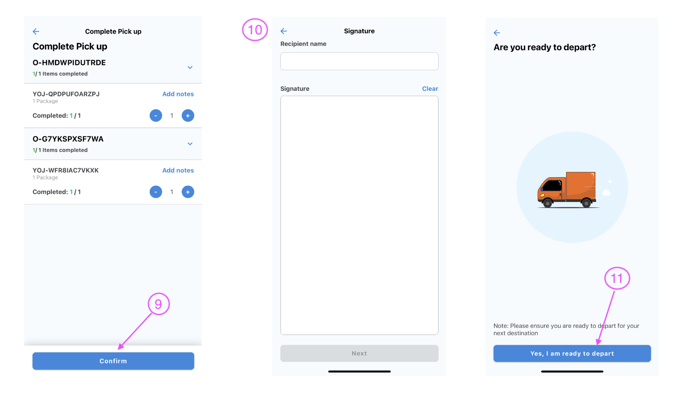 How to report an order/task
If a driver needs to reject or return an order, they can use the "Report" feature.
12. Select 'Report' to submit a report regarding the order.
13. Choose a reason from the default options that best describes the issue. If the issue is not covered by the default options, select 'Other reason' and specify the issue. Additionally, upload a photo as evidence.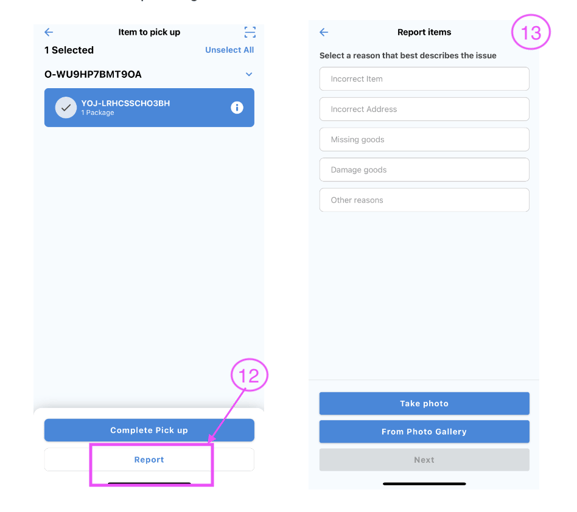 🚨Tip
Driver walkthrough video's can be found here.
How to view your completed tasks?
On the Summary page, you can check out tasks that you have completed in the past. A driver can review the deliveries that he has successfully completed.