Setting the vehicle capacity allows you to optimise your planning using preset constraints on quantity, weight and/or volume.
Go to Manage
Select Vehicle Management
Click on Fleet Management
Click on the pencil to edit/add the capacity against the vehicle type

Set the Capacity Constraints as required. You can set the weight (kg), no of units per vehicle and the volume.


SAVE to complete.
Tip: The volume can be configured to cm³ or m³. Send us an email to find out more - support@yojee.com
How does setting the capacity help?

When planning you will have full visibility on the capacity of your drivers. The bars are colour coded to help you identify if there is enough space left on your driver's vehicle.
You can also hover over the bars to see exactly how much space is left.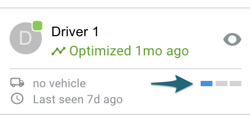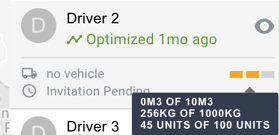 The capacity is also displayed from within the timeline. Click on the capacity option to display. Red means that that the driver has reached their capacity.