NEW! Time and Date Picker 🗓️

We have completely redesigned our Time and Date picker with a focus on improving user experience. Now, it is even easier for you to enter or update date and time information for your consignments. You can quickly tab, type, or click through the picker to input the required details. For more information on how to make the most of the new Time and Date picker, click here.
IMPROVED✅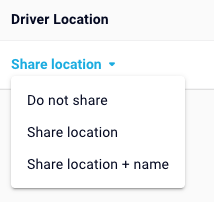 Partner Driver Location 🚚
Partners now have the flexibility to decide whether they want to share both the names of the drivers and their locations or only the driver's location. This allows them to have better control over visibility. For more details on how to share the driver's location, please refer to Partner Driver Location.
Consignment Details Summary 📋
The consignment details summary brings the most crucial information to the forefront, providing a comprehensive overview of the order. This includes essential details such as the Order, Carrier, Batch and Tracking IDs, Creation date, Batch ID, documentation links, and delivery partner information.
New Variables Added for Documentation 🏷️
A new variable has been created to combine the address in one variable.