We've been busy this month enhancing Yojee for your dispatchers and drivers and finance!
Driver App 📱
Improved streamlined usability for taking multiple images when completing a task reducing taps
For companies moving containers, the container number is now shown in the first screen. No need to click into the detail to see this information.
Icons added for easier navigation to access more detail
Reduced the number of taps to view order item details
Combined the item info and selection screens and pre-selecting all for delivery to reduce the number of taps.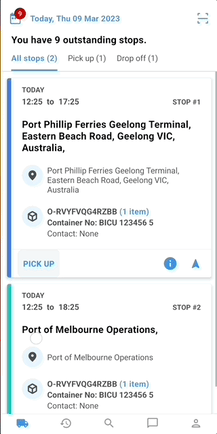 Dispatcher 👤
'address ID' can now be enabled in batch uploads to utilise saved address details. This can be enabled by enabling in the order template.
Provided a more focussed filter experience with the ability to only show empty leg information
Allowing single leg templates to be marked as empty
Finance 🧮
New ability to specify a minimum threshold charge for Unit and Rate table calculators to guarantee minimal charge for anything that requires a calculation
Added the ability to add conditions on calculators based on the item type, e.g. 'Only calculate these charges if the item type is 'pallet''
Added the ability to identify 'Chargeable' weight as a unit type, in order to apply either the dead or volumetric weight to a rate table.