How do I delete a driver?
*Prerequisite - Drivers must have no assigned tasks in order to complete this function.
Navigate to Drivers from Manage, then click on All Drivers
Hover over the bin icon to the right of the driver you would like to remove.
Click on the bin.

Confirm your deletion by selecting YES, DELETE in the pop up window.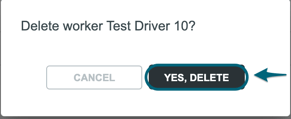 A successful notification will appear in the top right corner. Refresh your browser to see the changes.