Audit Logs
Audit Logs provide greater visibility to your dispatchers, by including all events in one place.
How do I access the Audit Logs?
In List View, click on the eye 👁️ to the right of an individual booking

In Explore View, click on the 3 dots 🖱️ of a task and click Edit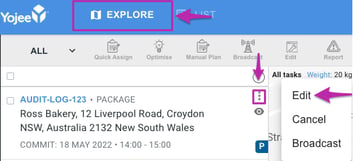 Booking Logs
Booking Logs show the time stamps of all actions performed by a dispatcher, partner, and driver. Including exceptions, arrival and departure times.

Charge Logs
Charge Logs provide you with information on who has applied for charges and when.