Using the bulk actions in Senders within Manage, you can create multiple sender accounts in a few steps.
Navigate to Manage
Click on Senders
Select Individual or Corporate
Select Batch Upload

Fill in all the mandatory fields marked with an asterisk * in the template

The External ID can be used during order creation, when creating orders via batch upload or using our API.
This will ensure the orders are created against the correct sender account.

Select the file to upload in the pop window and select Upload!
Not sure how the template should be?
Click on EXCEL or CSV buttons as shown below to download a template.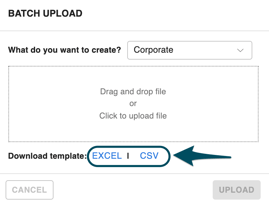 Alternatively, select a Sender as per the check box then select Download from the options from the 3 dots displayed to the right of the add corporate button
Did you know?
Some mandatory fields may not require all information. If you do not know the address or registration no's, this can be filled in with a full stop '.' or a dash '-' if required.
The sender email and phone number must be unique. If the phone number or email entered here have been used for a driver or user profile, the phone number and email address associated must match in all areas of the platform.
The email entered here will used for the sender notifications
Creating a sender account will allow access to the customer booking portal. If enabled, once an account is created, the sender will automatically receive a link via email with their username and password to access the page.
Need more information? Please contact us at support@yojee.com