To quickly create an order with one single item, you can use the "Create Order" button
Step 1
From the Orders tab, click "Create Order" from the order controls below.

Then choose "Create Manually" from the order entry method pop up box.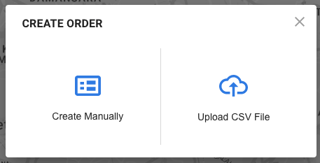 Step 2
Fill in the form to create order manually. To create an order, click "Save Order" button and you're done.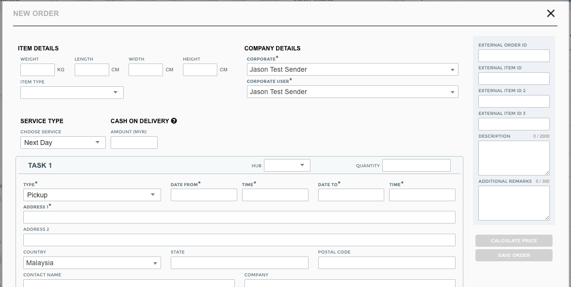 Fields marked with * are mandatory fields. Order can be created without having all information filled in. You can find the item later under Items tab to fill in the rest of information before assigning to a driver.
| | |
| --- | --- |
| Field name | Description |
| ITEM DETAILS | Info on the single item to be created within the order. Weight, length, width, and height attributes help operations to identify the item for pickup and delivery. |
| COMPANY DETAILS | If there are multiple senders registered in the system, the dispatcher chooses one of the senders to create the order for. This ensures the relevant sender receives notification around the execution of the order. |
| ITEM TYPE | Item type classifies the logistics product being ordered by the sender. Read more about product classification |
| SERVICE TYPE | Service type classifies the logistics product being ordered by the sender. Read more about product classification |
| CASH ON DELIVERY | Specifies how much cash collection is expected from the drop-off person upon delivery of the item, if any. |
| TASK 1, TASK 2,... | List of tasks required to complete the order. In this example, Task 1 is a pickup task at a point of origin, and Task 2 is a drop off task at point of destination. Task 2 is typically "linked to previous task" indicating that the driver executing the drop off task has to be the same driver executing the pick up task. |
| EXTERNAL ORDER ID, ITEM ID | Reference to another ID number used outside Yojee if the same order also needs to be created in another system (e.g. an ERP). |