WHAT DID WE DO?
We added the ability to offer cash-on-delivery to your customers.
Users can indicate the Cash on Delivery (COD) value per item during order entry.
COD feature can be enabled for customers on request. Let us know at support@yojee.com if you would like this to be added to your version of the product.
If COD feature is enabled, filling in an amount for COD during order entry is OPTIONAL, by default.
Recording the COD
Configure the COD field settings to enter the value using the batch upload template via manage.yojee.com or within the item detail in Explore or List View


The COD value will be captured per item, and this is different from the delivery price of the order placed.
The captured value will be displayed to the dispatcher, driver and on reports.
DRIVER APP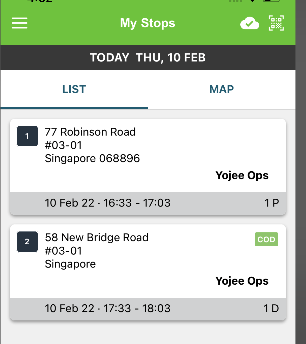 FAQs
Q: Is Cash on Delivery different from Delivery Price?
A: Yes it is.
Q: How can I request that the COD feature is enabled for a customer?
A: Email our Tech Success team at support@yojee.com to enable the feature.
Q: Where will drivers see the COD value?
A: Drivers will see the COD tag and value per item on the incoming assignment alert before accepting the job and also in the item details after accepting the job.
Q: Are the drivers required to take any special actions for COD jobs?
A: No - drivers can view the COD amount per item and complete the delivery workflow per usual on the driver app. (no special verification for COD amount collected)
Q: Which report contains the COD value per item?
A: The Order Items report (COD field).